I adopted a bulldog from Buster Brown Bulldogges last year, her name is Izzy and she is a love. I have a six year old Bully and wanted another, and I shopped around for a long time but they didn't touch my heart strings. Then I seen Izzy's picture and I knew she was the one. (Mother Candy and Father Malachi) I contacted Shevonne regarding Izzy and made arrangements to adopt her.
We live on the other side of the state and didn't have a chance to see Izzy prior to picking her up. When we got there I was pleasantly surprised, the puppies were in the house. They were very well cared for, clean and socialized with people and other dogs something you don't find very often and we knew there wouldn't be a problem bringing her home to another bully. She is good puppy, smart, playful, curious, full of love, comic relief, loves everyone and a wonderful addition to our home. We are seniors and questioned bringing in a puppy but she has been the best thing for us, she makes us feel ten years younger.
People say don't get a bulldog there are too many health issues, every breed has it's own health issues. Make sure you have a good Vet that knows bulldogs, and keep them up on there shots and you won't have a problem. Bulldog's will pull on heart strings that you didn't know you had and once you have one you will want another.
Shevonne is a good breeder, she loves her puppies and never forgets you after you walk out the door, and if you have a question or concern regarding your puppy she will contact you. If I ever thought of getting another bulldog Shevonne is the "ONLY" one I would go to. She is great and so are the bulldogs.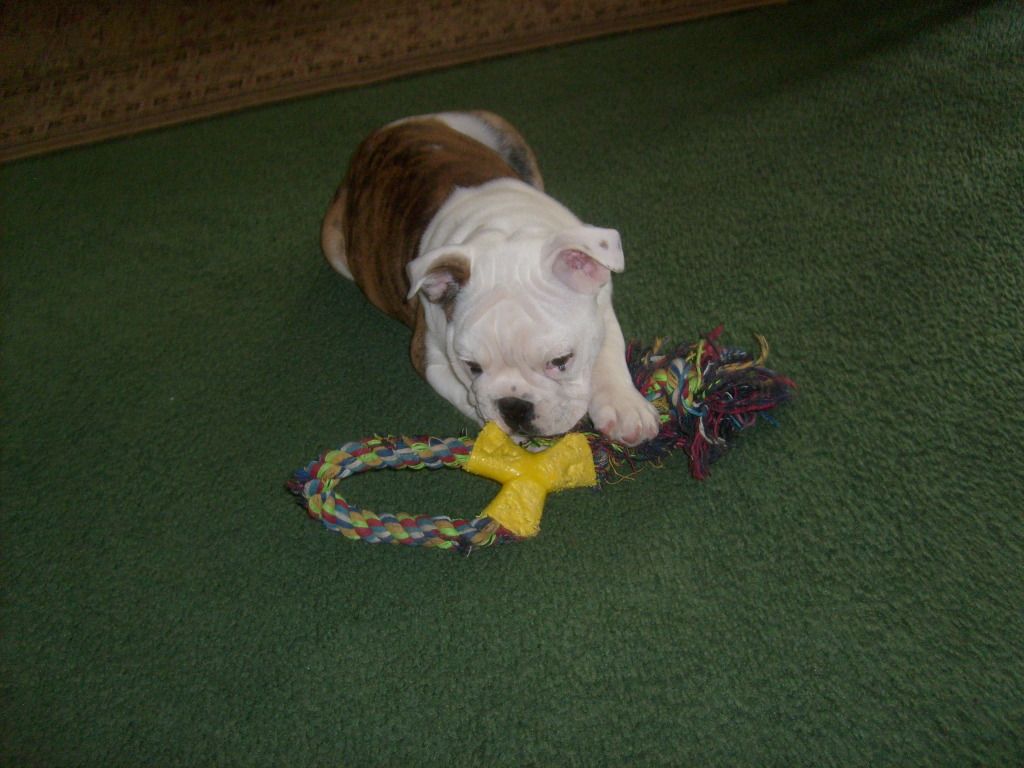 Yay!!! Maggie is one!!! We enjoy her so much. I am so thankful for her. Even though she was meant to be Jasons buddy she sticks to me more. Jason calls her a traitor but sneaks his cuddle time when he can. Thought I would send some updated photos.
Angie Angela Carter
I wanted to drop you line and let you know how much we love our Lucy. She was a female from Candy's last litter. She is so sweet and healthy.
Bella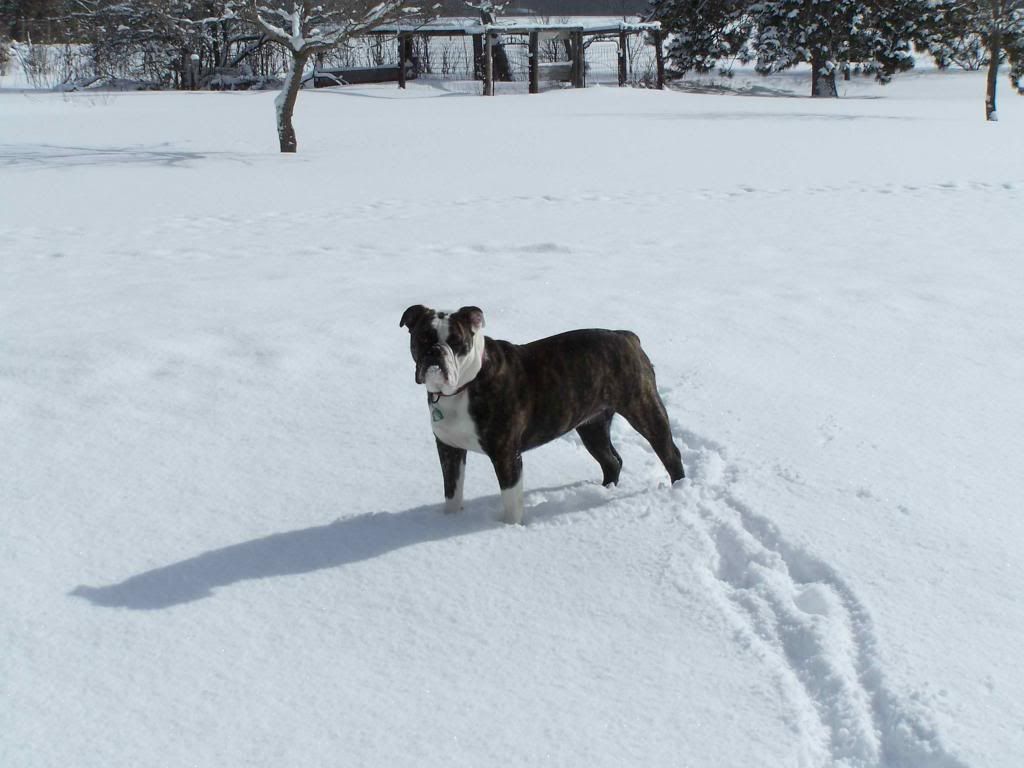 Hi Shevonne,
It's been awhile since I've given you an update on Bella. I had her out side with me a couple of weeks ago and was able to get some really good pics of her, so I thought it would be a great time to send you an update as well as some pictures of her.
She is doing fantastic! She has grown into a beautiful Bulldogge girl as you will see in the photos. Anyone who spends any time
her says the same thing, "She is such a character!" And she is.

She still goes to day-care two days a week while I'm working. It's good for her and us 'cause it tires
her

out. They love her out at the kennel because she gets along with all the dogs and she can be very entertaining! Bella is great with our grandkids and their Golden Retriever, Simba. The two dogs play and wrestle until they just about collapse. She and our cat Boo co-exist very well. Bella would love it if Boo would play with her more, but he's 13 and his patience are limited. Even so, Bella will lick his head or ears and then just walk away. That is so awesome since my last dog just wanted to kill the cats and did succeed one time.
We are completely sold out to our Bully-girl. She sleeps with us every night and we take her with us whenever we can. She absolutely loves going

anywhere

in the car and is content just to sit in the car and wait for us to come back rather than be left home in her kennel.
Well, I've taken enough of your time. I hope you've enjoyed the update. You can be assured that this puppy has a happy, loving forever home and is spoiled with lots and lots of love!
Sincerely,
Moxie
Just wanted to keep you updated on Moxie. She's a very special girl! She recently "graduated" from beginner training class and EVERYONE that meets her, loves her. She's extremely gentle with my kids (they love her to pieces), and listens well when given instruction. She is absolutely the best dog ever!
Kindest regards!
Lisa Patton
Zoey
Hi all

I got Sadie from Shevonne and wow is she a great little pup! The white bulldog attached I had before Sadie. Hope you enjoy these!
Vicki Walsh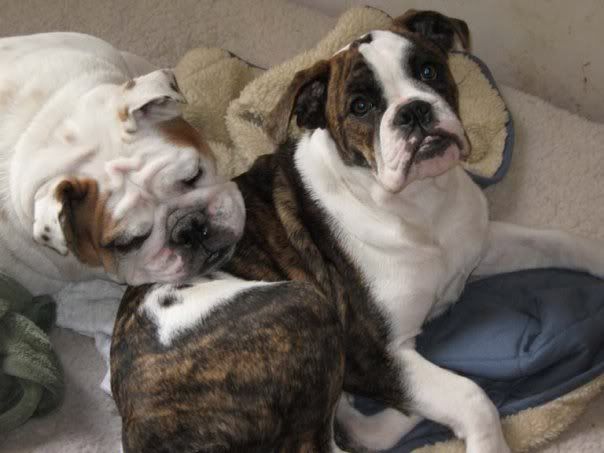 Sexie Sadie
Candice Ludwig
please feel free to use the pictures. I also think she is gorgeous :)
I could not be happier with her. Thanks again!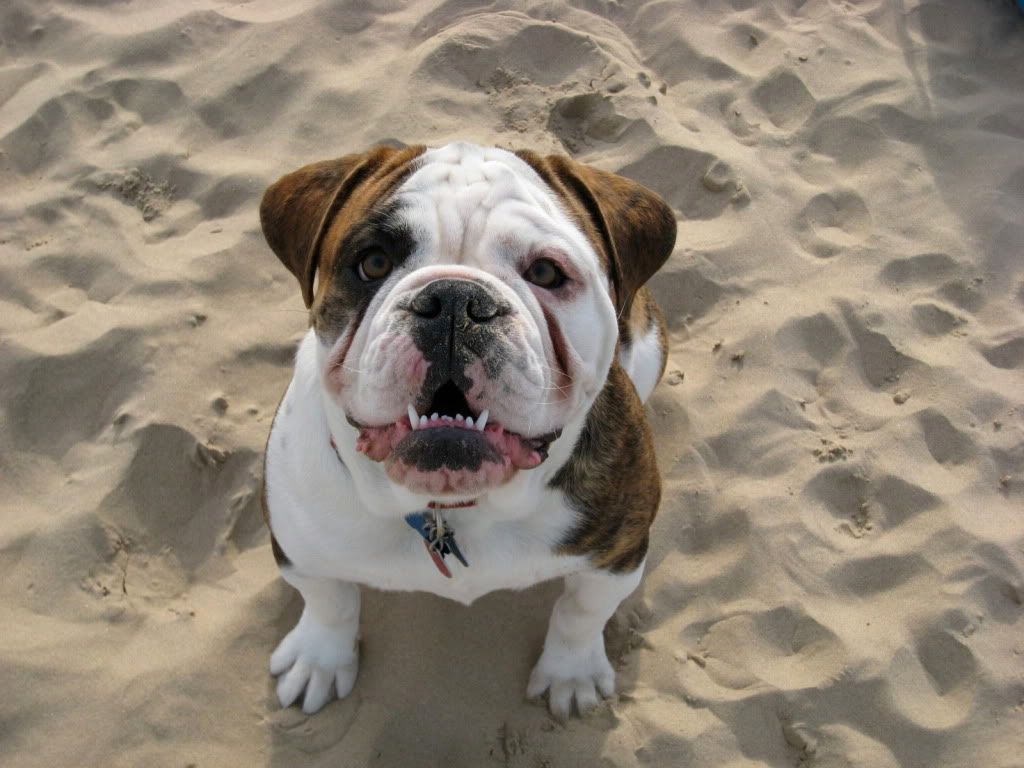 Brooklyn AKA Lindie Star
Hello, Jason is doing great.......Here are some pictures for you. Sorry it took so long.
I will send you some more soon. I have to get my camera fixed.
Have a great weekend and I hope to hear from you soon.
Thanks,
Bill, Jammie Hunt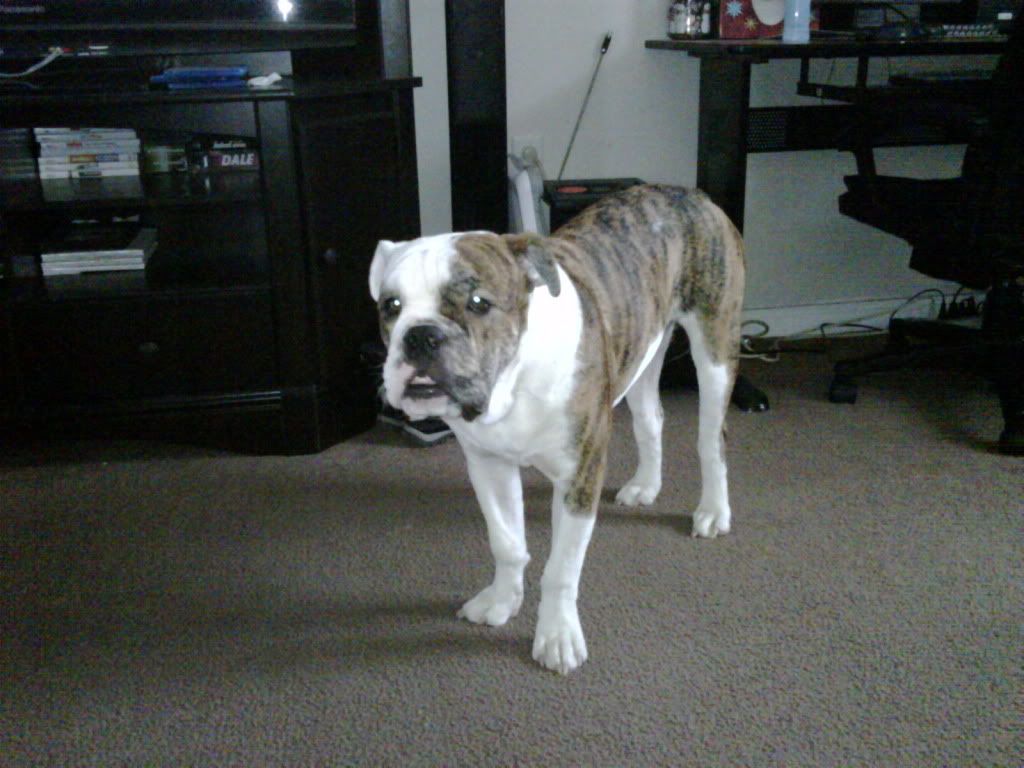 Sunny AKA Jason
Hercules is doing great!
He's doing great, and I don't think I could love him more than I do! I've taught him some tricks, and the one he is doing in the picture is sitting pretty. The other one with him on the couch just shows how spoiled he is! He pulled that pillow and blanket up there on his own! And the one of him with horns was my mom's doing. She thought it would be funny to buy him a Halloween costume. Anyways, I hope everything is going well for you, and I would just like to thank you again for giving me the opportunity to have Hercules in my life!
Matt Dimick
Marlee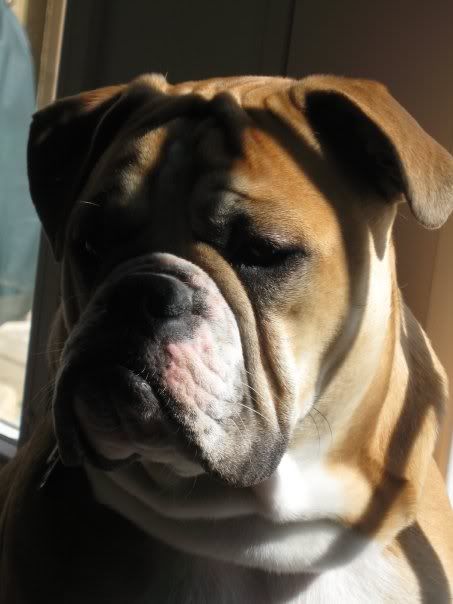 Marlee is doing great...She has just learned how to hide her bones which
is hilarious.
I will send you a picture tonight from home.
Warmest regards,
Stacey Mancuso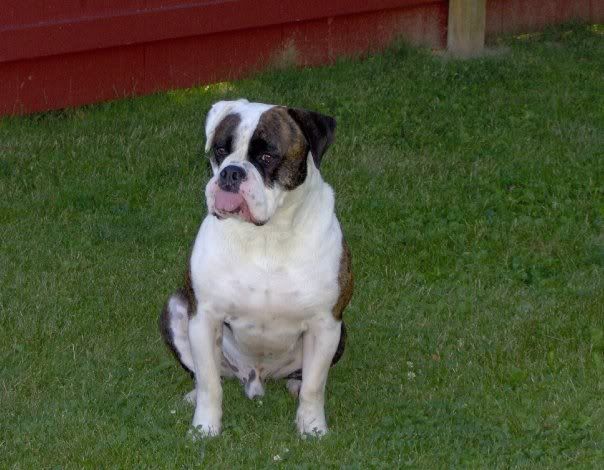 Brutus
Kennedy's
Anyway--we love the dog. He has a real sweet nature, and has gotten over his shyness.
He follows Fred around everywhere. He weighs almost 40 pounds. He is not at all fat, but very healthy looking.
I joke that you made a mistake and gave us a Great Dane instead of a bulldog because he's so big! He is a excellent pet.
Carolyn Kennedy


Pixi

I can¡¯t believe that she¡¯s already 1 year old. We had a birthday party for her and I made her a dog friendly cake that she loved.

She is doing good she plays well with dogs that she knows, even though she acts like she¡¯s the boss of them its fun to watch them play.
I hope that you and all of your dogs are doing well.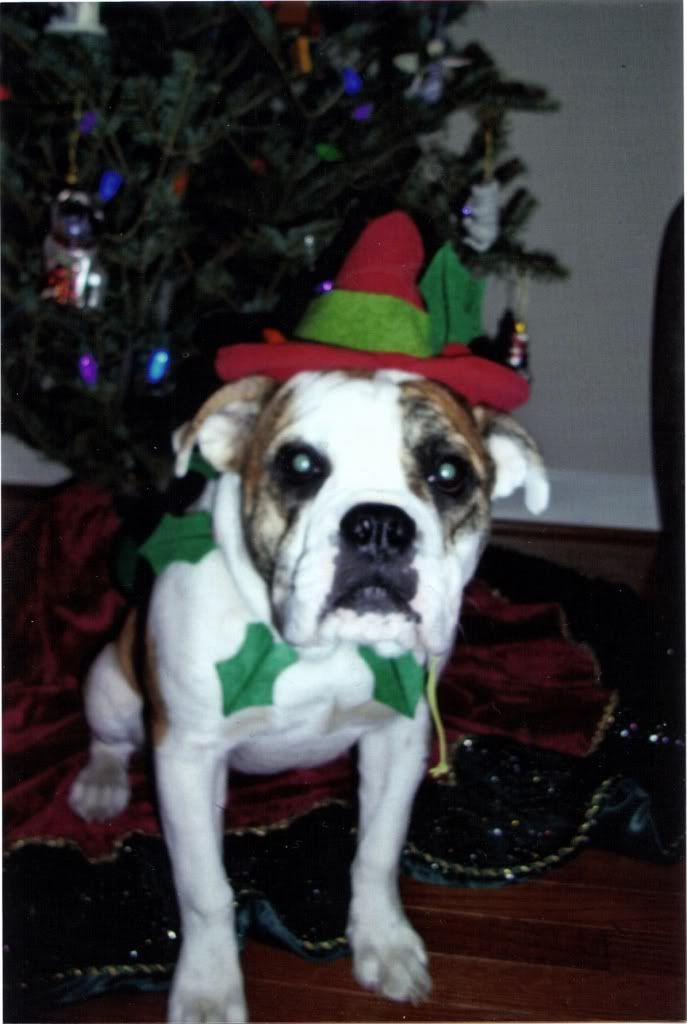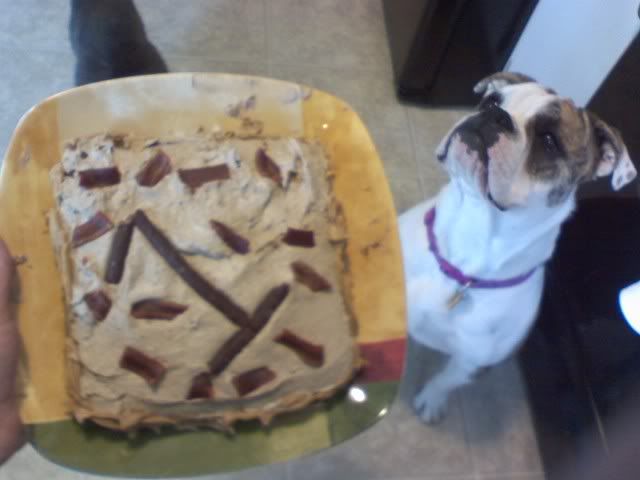 Thank You!
Janelle Flint Adams
Tera Fritz
I bought and Olde English Bulldogge from you almost 4 years ago,
he was listed as buster brown, but we named him Oberon.
He is the best dog ever; anyone who meets him loves him on the spot.
At home we call him Mr. Lovers because all he wants to do is give you love you.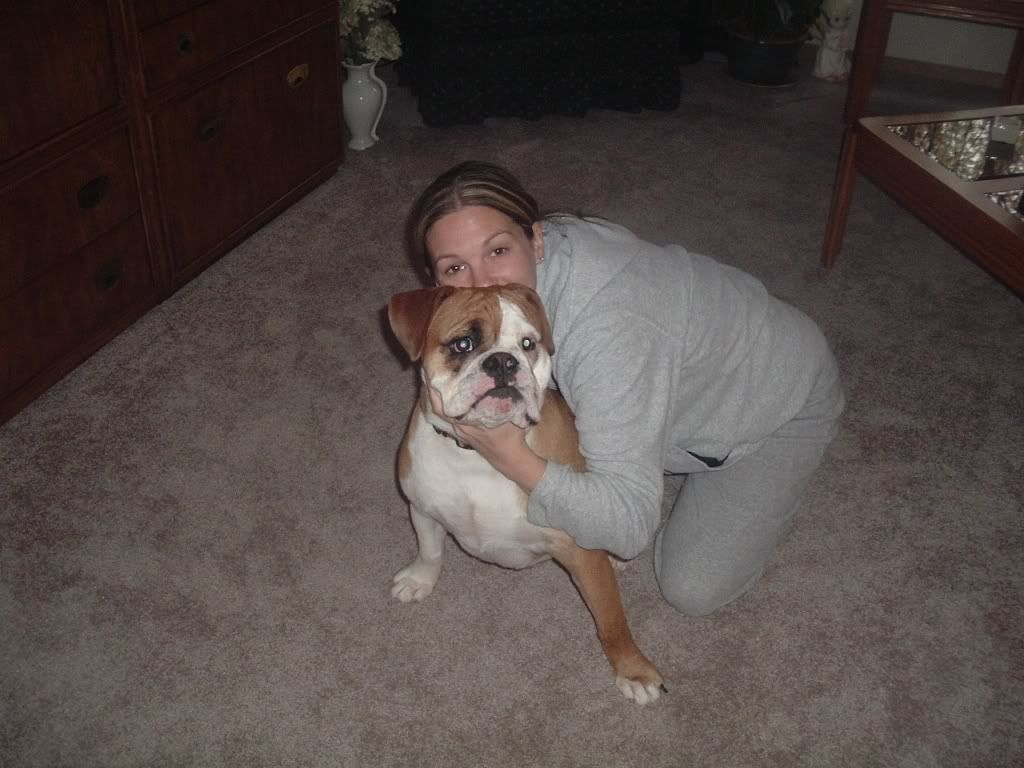 Oberon
Here are some recent photos of our little Brutus. He has such a personality. We love him to pieces!!!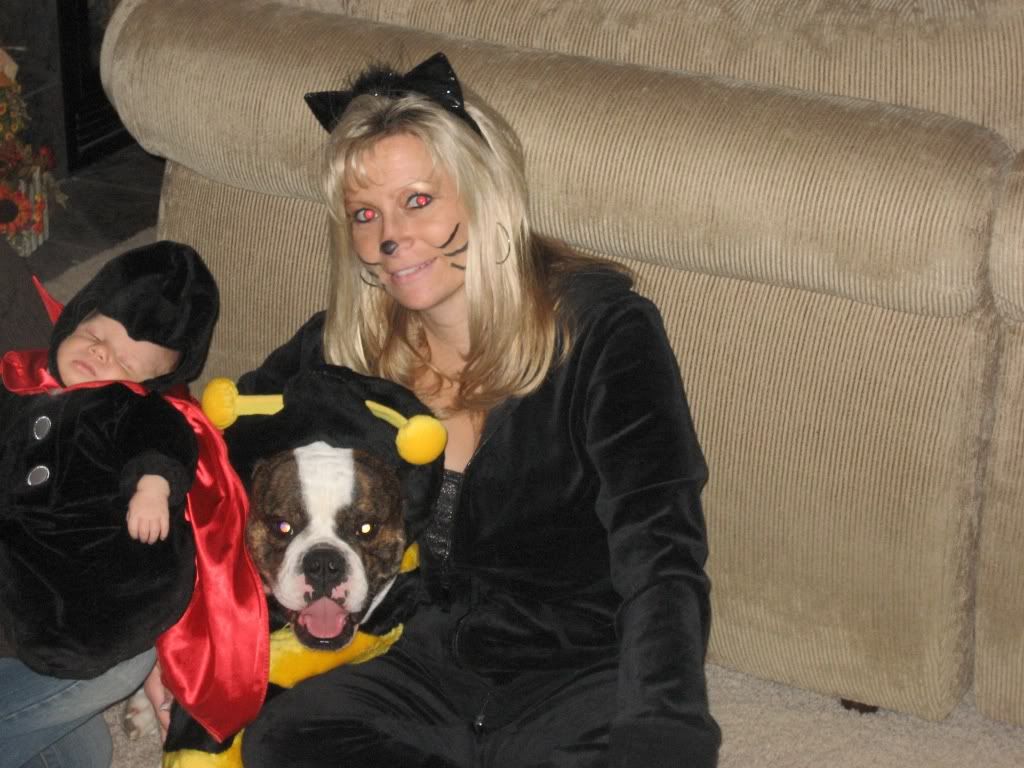 Mike and Tracy McBreen
Stubb's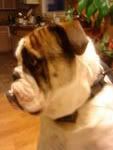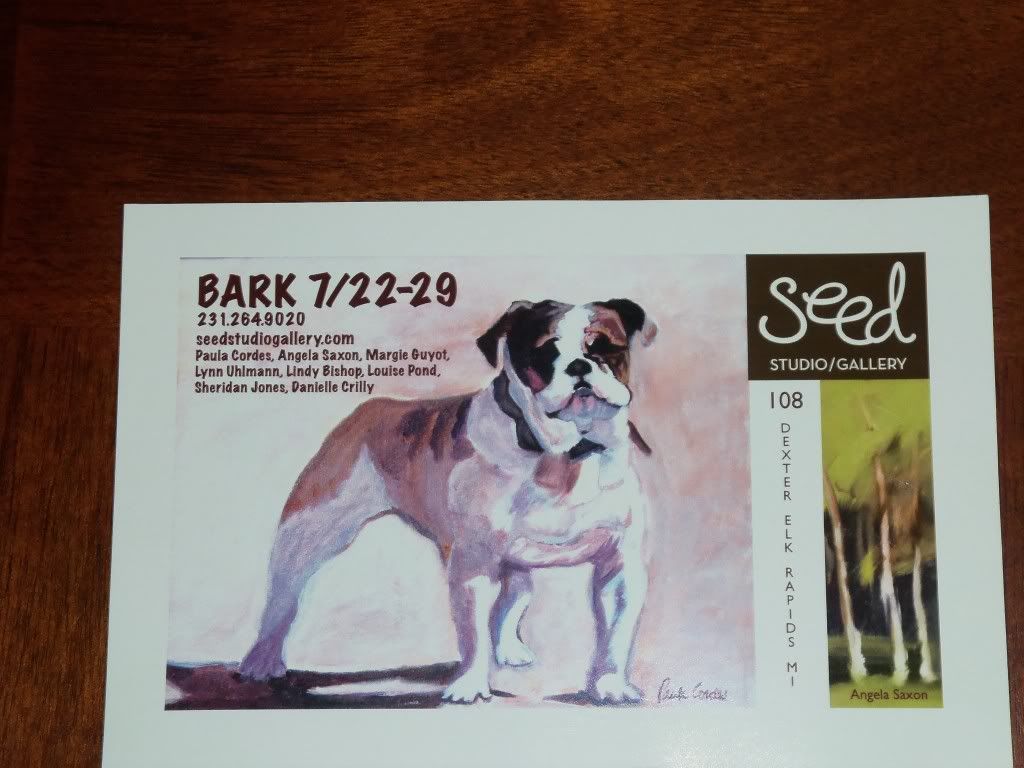 Hi Shevonne, just wanted to show you this. A local artist was walking by the house and took a picture of him. She did a portrait of him and it is being featured this week at one of the art galleries in Elk Rapids! Thought you would enjoy this. Thanks so much he is a great dog!! Kolleen
Bella Mae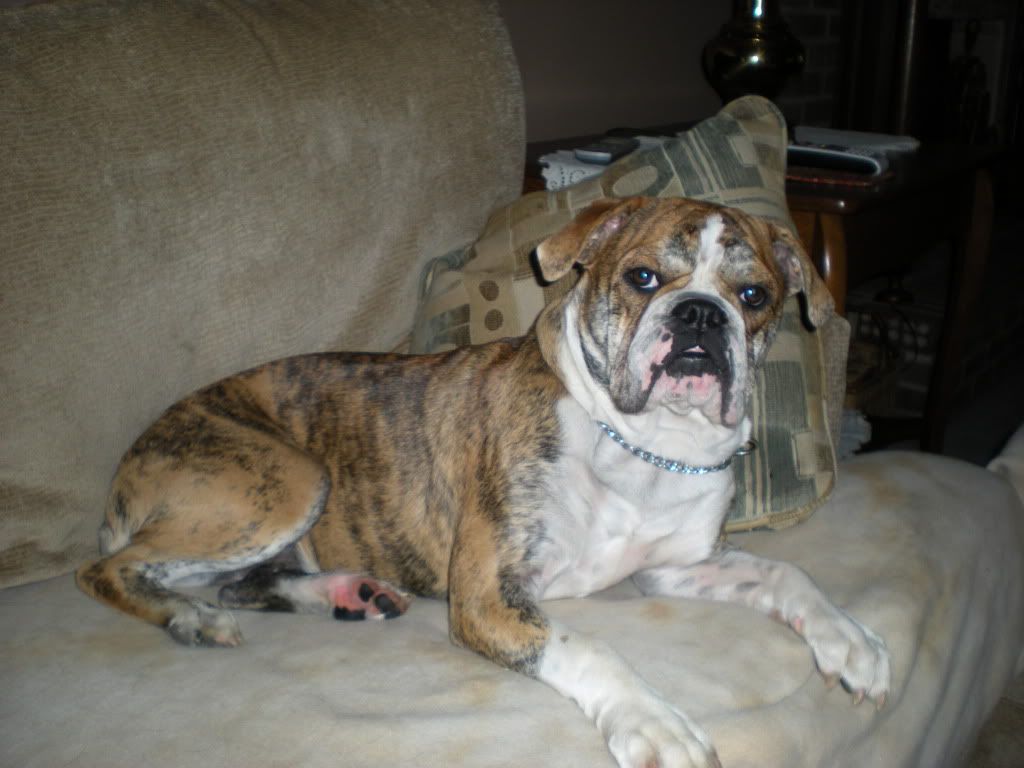 Bella Mae is doing great, She's a beautiful , curious, feisty, loving, cuddly puppy. She has a good appetite, She has been a good match for me and my husband, and oh yeah, did I forget to say "spoiled".
Bobbi
Hi. I thought I'd send a Picture of our boy Rocky that I took last night. He truly has become our gentle giant.

He is the sweetest, most beautiful boy ever and we love him so much....
Happy Holidays.
Chris and Mel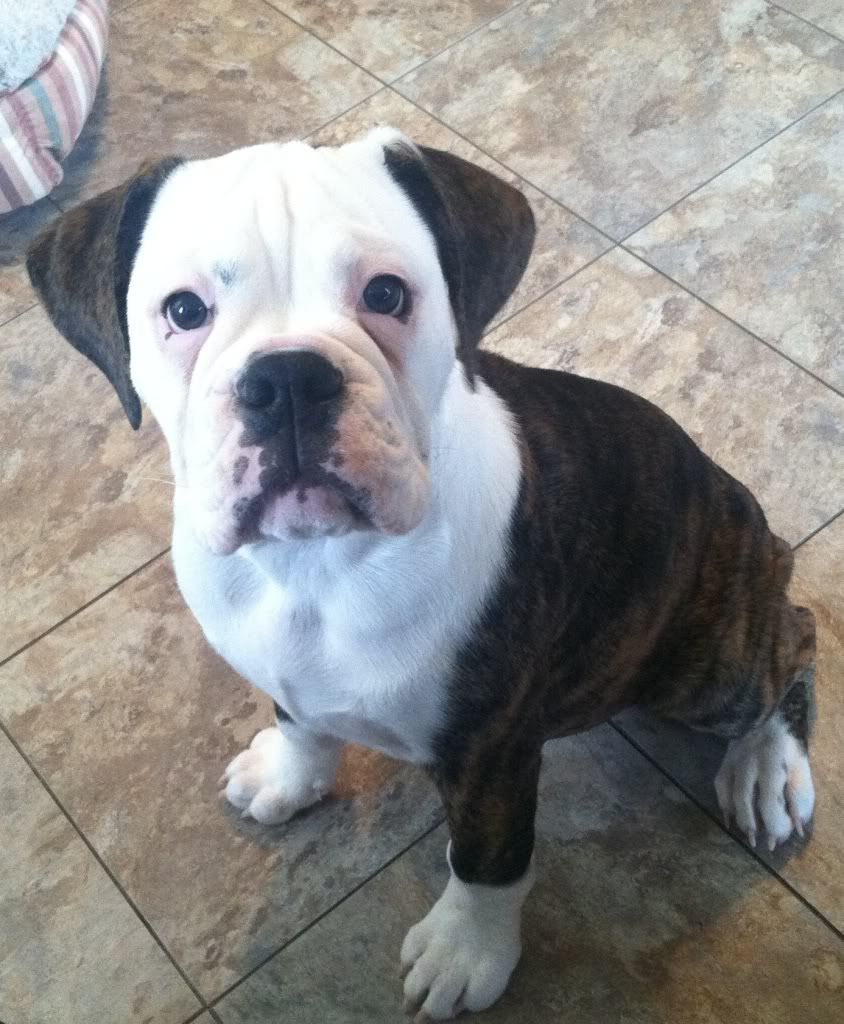 I wanted to keep you updated on our fabulous Moxie girl. We're loving her to pieces, and I think she feels the same way. She's growing like a weed, and our vet says she's very healthy. I've attached a picture that I took of her this morning. She's looking a lot like her mommy. She's been going to "doggie daycare" at least once a week (making friends with new people and dogs), and we start our "beginner" training tonight. She's VERY smart and I'm really looking forward to training. I have high hopes that if I can keep up with her mental challenges, she could be an excellent therapy-dog someday, that I could take to schools with me when I travel.
Hope all is well with you and your gorgeous pups!
Lisa Patton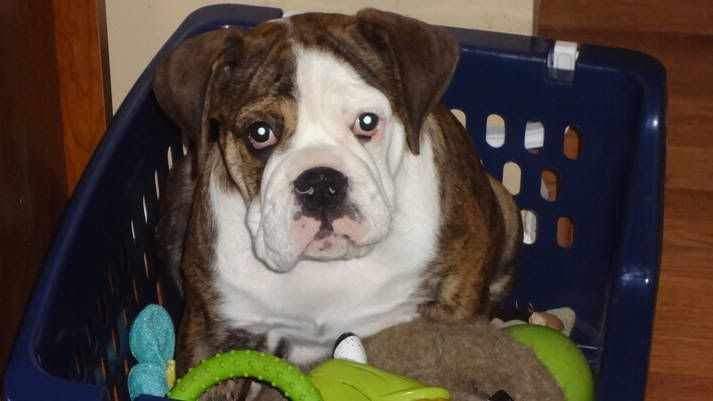 I just wanted to thank you for giving me the best dog ever. I take Bocephus (Mac) every where I go and people don't even know I'm there. They play with him, they pick him up and they say he is the cutest dog they have ever seen. I know I sound like a proud Papa and I am!
I love him to death!!!!!
James Shirley